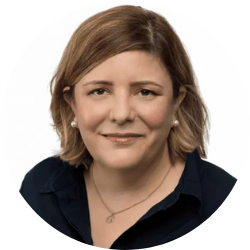 Holly Wittenberg
External Relations Committee
Holly Wittenberg leverages her 20 years of management consulting, entrepreneurship, venture capital, and post-merger integration experience to help companies identify DEI opportunities that drive business value. She uses data-driven analytics to identify deep insights about DEI performance and opportunities to improve. Holly studied economics at the University of Chicago and has an MBA from Thunderbird (part of U of Arizona). She is a board member of  Woodley House, a nonprofit which provides residential services for those experiencing mental illness.
Kenitra W. Dominguez
External Relations Committee
Bay Area, CA
Keni Dominguez is a people ops strategist and career coach for Black and WOC introverts, with over ten years of leadership experience in People Operations/HR, and is a certified mediator. She attended UC Hastings College of the Law in San Francisco. She received a master's degree in Work Law, an integrated study of the laws and policies governing the workplace, the labor market, and the legal relationships between businesses and workers, including the regulation of work and the problems of inequity, insecurity, and discrimination in the workplace.
As a fierce advocate and ardent believer in a people-first philosophy, she is passionate about workplace issues related to gender and racial equity and how those issues emerge for Black and other WOC introverts. Keni was cited in multiple press pieces on platforms, including Apartment Therapy, HuffPost, Washington Post, Rolling Out, and various podcasts. Keni's mission is to help empower Black and other WOC introverts to thrive in the workplace. She provides practical organizational culture and design for individuals and purpose-driven, people-centric companies. Keni helps introverts discover their unique voice, learn to work with their energy, and show up unapologetically as their authentic introvert selves to step boldly into who they are.