Twitter threw a summer soiree to rival all soirees Tuesday. The microblogging site hosted a college-frat-party themed happy hour for its San Francisco employees complete with beer pong, a keg, those iconic red Solo cups synonymous with underage drinking, and a proud banner that read "TW?TT?R ?R?T H?VS?."
News of the party spread like wildfire after a female employee posted a picture to a women in technology group on Facebook. Fraternities and greek culture have become synonymous with sexism in the tech industry, which often referred to as the brogrammer culture that caters to white males and often excludes — or is hostile toward — women and people of color.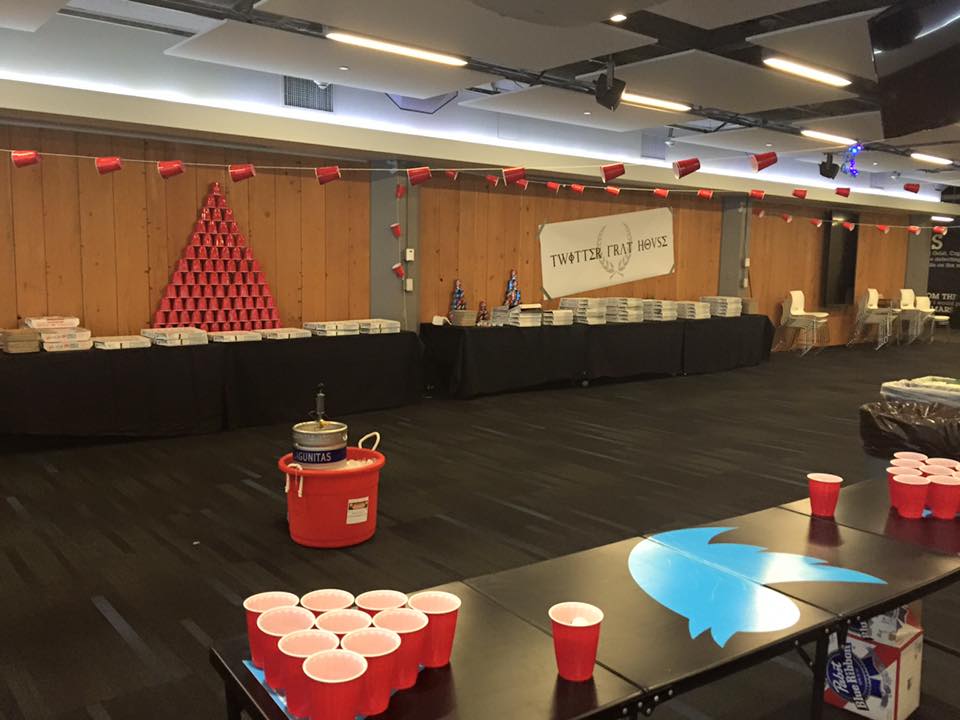 Twitter has since apologized for the party as spokesman Jim Prosser told Fusion, "This social event organized by one team was in poor taste at best, and not reflective of the culture we are building here at Twitter. We've had discussions internally with the organizing team, and they recognize that this theme was ill-chosen."
The "ill-chosen" party theme marks the latest in a series of missteps regarding the company's handling of gender-based issues — most notably a gender discrimination lawsuit. Former software engineer Tina Huang claimed Twitter's promotion process was biased toward advancing male employees over female employees up for the same job. Women make up less than a third of all Twitter employees — only 10 percent in tech jobs — and hold 21 percent of management positions, according to the company's 2014 diversity report.
Twitter has been at the center of the industry's perceived ineptitude when dealing with issues of diversity internally and when it comes to implementing policies for issues that predominantly affect marginalized communities. The company has made strides to improve its policies and image by making it easier for users to promote rape and death threats, and other instances of online harassment.
But the company continues to struggle with internal diversity efforts, namely its hunt for a new CEO. After Dick Costolo stepped down in June, Twitter co-founder Jack Dorsey took over as interim CEO while the company searches for a permanent, full-time replacement. (Dorsey is also the CEO for Square, an online payment system.)
So far, the preliminary candidate pool doesn't reflect users call for more diversity. The early list of hopefuls don't include any women or people of color. Twitter has only one female board executive, Marjorie Scardino, who was hired in 2013.
This blog was originally posted on Think Progress on July 22, 2015. Reprinted with permission.
About the Author: The author's name is Lauren C. Williams. Lauren C. Williams is the tech reporter for ThinkProgress with an affinity for consumer privacy, cybersecurity, tech culture and the intersection of civil liberties and tech policy. Before joining the ThinkProgress team, she wrote about health care policy and regulation for B2B publications, and had a brief stint at The Seattle Times. Lauren is a native Washingtonian and holds a master's in journalism from the University of Maryland and a bachelor's of science in dietetics from the University of Delaware.