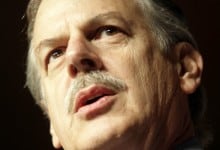 The June jobs report – a cheery 287,000 new jobs, with unemployment ticking up to 4.9 percent – is cause for both relief and concern.
The relief is that jobs creation picked up after the slowdown of April (revised upward to 144,000) and May (revised downward to 11,000). Even subtracting the 35,000 jobs "created" by striking Verizon workers returning to work, the June report suggests an economy that is continuing to grow and generate jobs.
The continuing concern is the pace of that growth. Jobs creation is slowing, down from a monthly average of 229,000 last year, to 196,000 in the first quarter, and now to 147,000 in the second quarter. Yet over 15 million people are still in need of full-time work. The percentage of Americans of working age who are employed or looking for work is at 62.7 percent, still below pre-Great Recession levels. Average hourly wages ticked up by 2 cents in June, and wage growth remains slow – 2.6 percent over the past year – far below the levels associated with previous recoveries.
This is the last jobs report before the political conventions formally kick off the presidential campaign (which already feels like a recurring and unending nightmare). For Clinton and Democrats, the report provides some relief that the economy isn't slowing dramatically. For Donald Trump and the Republicans, it provides continued evidence that the economy isn't soaring. Working families are likely to continue to wonder when they will begin to share in the recovery.
For Democrat Hillary Clinton, these conditions pose particular perils. President Obama will want Democrats to tout his success – record months of private sector jobs growth, over 14 million jobs created since 2010, seven years of economic growth, unemployment down by more than half since the Great Recession he inherited, the strongest economy in the industrial world.
But most Americans aren't sharing in the rewards. Median family incomes haven't recovered to pre-recession levels. The wealthiest 1 percent captured a staggering 52 percent of the rewards of growth from 2009 to 2015. And now a weaker Europe post-Brexit and a stronger dollar suggest that our trade deficits will worsen, putting more pressure on jobs and wages.
Americans are looking for change, not for more of the same. Trump will be spouting that message, with a mix of bluster and preposterous policy to support it (build the wall, slash trillions in taxes, renegotiate the debt, and so on). Clinton and Democrats need to make a clear case on how they will change this economy to work for the many – generating more good jobs, higher wages, and a better deal for working people. More of the same offers no way out.
This blog originally appeared in ourfuture.org on July 8, 2016. Reprinted with permission.
Robert Borosage is a board member of both the Blue Green Alliance and Working America.  He earned a BA in political science from Michigan State University in 1966, a master's degree in international affairs from George Washington University in 1968, and a JD from Yale Law School in 1971. Borosage then practiced law until 1974, at which time he founded the Center for National Security Studies.